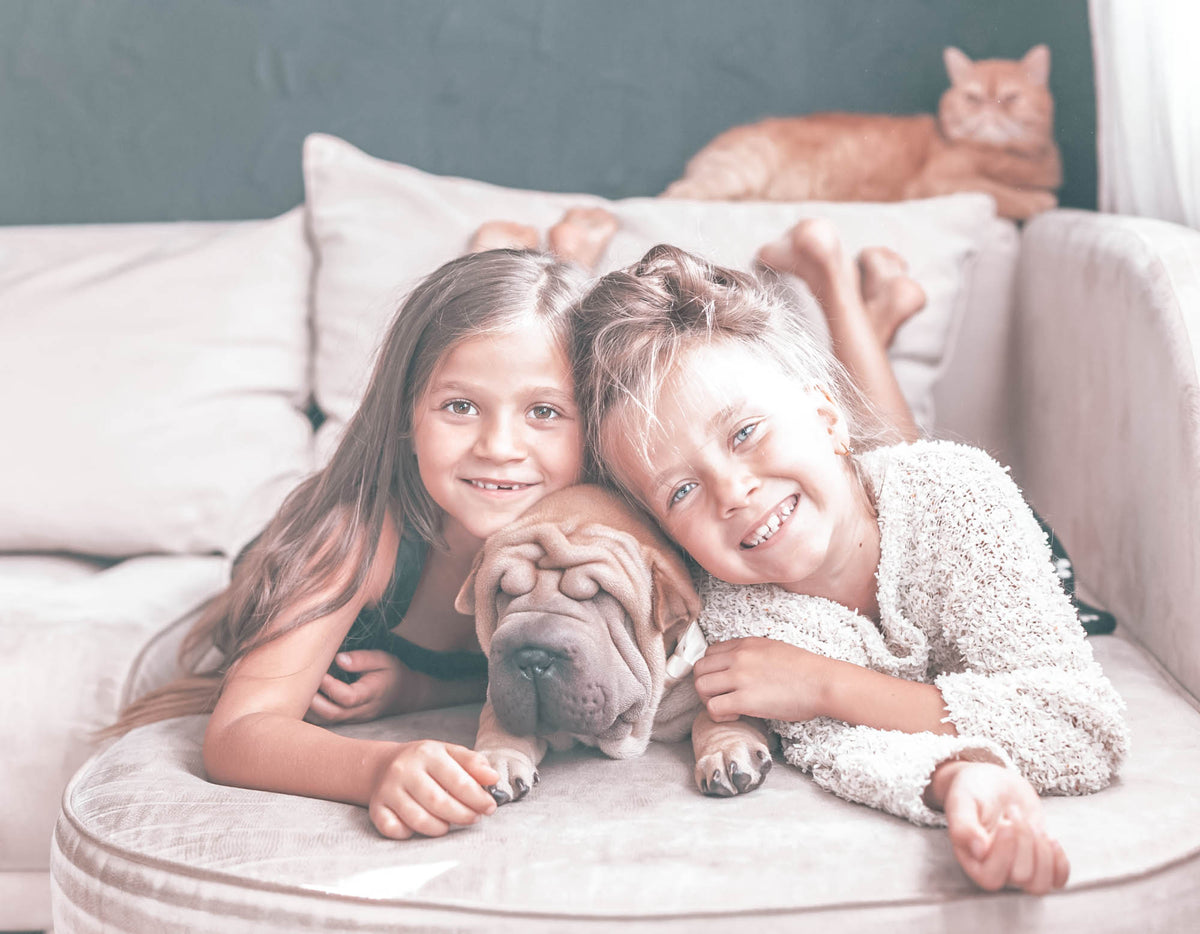 Benefits of Having a Pet in the Family
February 20, 2023
Author: Regalo Baby
Benefits of Having a Pet in the Family
 
I know, I know. If you don't have a pet in your family right now, you're probably wondering why on earth you would need something else to take care of in your house. This is how I feel about plants – our home has exactly zero plants because I cannot fathom the possibility of having to feed and water one more thing. Plants I receive as gifts are promptly re-gifted or planted outside. Outside is my husband's territory. Plants are where I draw the line.

That said, the reason I have zero tolerance for finicky plants is likely that we have three kids and three dogs in our home. Each of these living things requires multiple feedings per day, as well as other normal human needs. In addition, our family goes through seasons where we foster dogs and puppies with a local rescue until they find a home. Suffice it to say, we are dog people. We love their loyalty, playfulness, and we love their unique personalities. If you're not a dog person, that's okay! Dogs are by far the most high maintenance pet a family could have (unless you're considering a llama or something of that nature). There are plenty of other family pets to consider (with their own benefits!) before jumping headfirst into dog-ownership.

Here are 3 benefits to pet ownership that you may not have considered!

1. Pet ownership teaches your children responsibility. Now I won't lie to you: you, mom, are likely going to be the one in your house picking up the poop in the yard, cleaning the rabbit cage, and changing the fish water. Unless you have magical unicorn children (I don't). BUT children over the age of about 4 years can be responsible for feeding and watering their pet each day. You may even trust your older children and teenagers with walking the dog and/or being responsible for some of the pet's training. My middle kiddo absolutely loves it when we foster puppies and is always willing to do more pet-related chores in order to make that happen.

Having responsibility for another living thing is truly a huge boost in a child's confidence. You might even notice him or her start taking more responsibility for his own belongings!

2. Having a family pet builds compassion and empathy in children. Learning how to treat a pet (providing care, using gentle hands, moving slowly to avoid frightening your pet) helps children build understanding of what others want and need – this understanding translates to empathy for humans as well! Developing a bond with a pet is often the first relationship that a child builds – and is a great stepping stone to building relationships as they go to school and grow their social networks.

3. A pet is often a source of love, comfort, and loyalty for your family, too! Children often spend time talking and cuddling with their pets, telling stories, and sharing their worries and problems. Love goes both ways – your family also benefits from the love of your pet as you share your love with it!

There are numerous research studies that suggest that families who own dogs are healthier, have fewer allergies, reduced incidence of ear infections, better mental health, better social skills, and on and on. Do your own research! Have an honest discussion with your family and set expectations for pet ownership. No matter how excited your children are now, you will need to consider yourself the backup option for pet-related chores that go unfinished.

Some things to consider: do you have room in your budget for pet care? How much time do you have in your schedule for pet care? What will you do when you travel? Who will do which pet-related chores? What happens if that person does not do the chores? Adopting a pet is a huge decision, and one not to take lightly! Ask yourselves these questions before deciding on a pet. Maybe someday you will even turn into our crazy family – with 3+ dogs in the house at any given time!