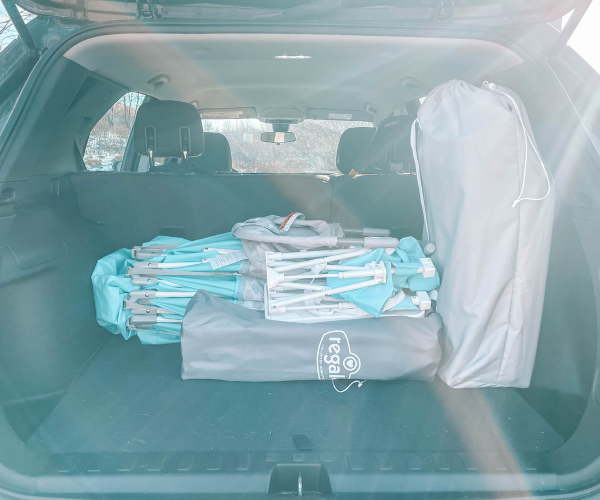 5 Product to Help Save Space for Holiday Travels
December 05, 2022
Author: Regalo Baby
5 Product to Help Save Space for Holiday Travels
The Holidays are full of wonder and joy…but we all know they can be stressful at times. When you add holiday traveling to mix, things can boil over quick. Don't worry we're here to help! Check out these five travel-friendly products that will make your holidays merry and bright!
8-Panel Play Yard with Pad
The 8-panel My Play Portable Play Yard® with Pad is a lightweight, foldable, play yard for both home and travel. It helps keep your little one safe, while you wrap up last minute holiday prep and out of the Christmas tree!
My Crib Portable Bassinet:
The Regalo My Crib® Portable Bassinet gives the baby a comfortable spot to relax and sleep this holiday season. This space-saving bassinet easily folds open to assemble. Unlike other bulky portable sleep systems, the foldable bassinet is very lightweight and folds compactly to fit into an average size checked luggage bag, perfect for holiday traveling!
My Cot Pals Portable Toddler Bed
An essential item for travel, the My Cot® was designed for portability! The portable bed includes a fitted sheet and removable pillow to create a comfortable sleep space anywhere! Whether you're setting the whole family up in the guest room or camping out in the living room waiting for Santa!
My Chair
The Regalo My Chair™ Portable Booster Seat with Tray is a convenient booster seat for your little one transitioning to the "big kids" table. It folds like a bag chair and comes with an attachable tray. The perfect choice when dining, traveling, or visiting friends and family for the holidays.
Easy Diner
When it's time to feed your little one this holiday season, the fold-and-go design of the Regalo Easy Diner Hook-On Highchair makes mealtime a breeze! Give your little one the opportunity to truly enjoy their meal this season as they sit at the table with the "big people". It hooks directly on to your dining room table and the 5-point harness safety belt system and double-locking table security system ensures baby's safety.
We're wishing you all safe and happy holiday travels – and many silent nights!