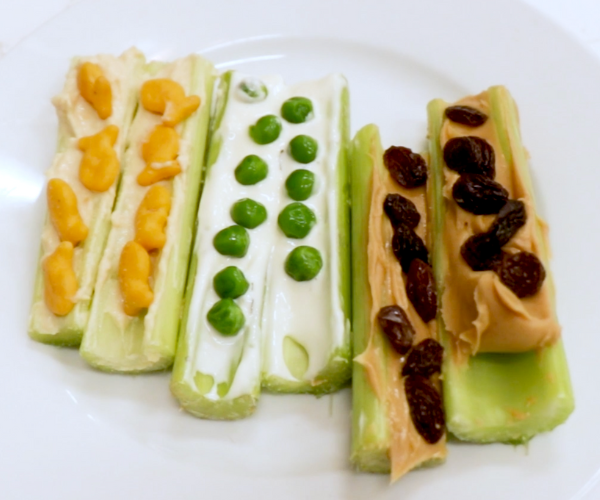 Ants on a Log  |  3 Ways
As you get back into the swing of things with school and fall activities it can feel like you're constantly running. That's why we love quick and easy recipes that you can put together in minutes!

Get your kids involved in the kitchen with these simple Ants on a Log variations. Perfect for a quick snack at home or on the go! Try one, all three, or put your own spin on the classic, Ants on a Log.
Ingredients:
Ants on a Log: Celery, Peanut Butter, Raisins
Ants on a Ranch: Celery, Veggie Dip, Peas
Fish in a Stream: Celery, Hummus, Goldfish Crackers
Recipe:
Step 1: Wash and cut your celery into about 3-inch pieces.

Step 2: Spread your topping across your celery, filling in the gap of the celery.

Step 3: Top your creation by lining up your raisins on your peanut butter.
Pro Tips:
Have allergies? Substitute for your favorite but butter or cookie butter.
Precut your celery and keep in an airtight container for even quicker snacks.
Use piping bags to place fill your celery to help contain the mess.
Elevate your snack by switching out the celery for sliced mini cucumbers.
Mix and match! There are endless possibilities for Ants on a Log.